Loggerhead: Best Speakeasy in Kyiv
Best speakeasy in Kyiv: the 1920s returns to Ukraine in a speakeasy worthy of a top hat!
If you haven't been to Loggerhead you're really missing out on one of the most interesting places in Kyiv! It's a "speakeasy" located downtown, near Arena City. It's arguably the best little bar in town, fielding an old 1920s-style ambiance with live jazz on Friday and Saturday nights. I've been going there since at least late 2016, so it's not exactly a new place, but since so few people know about it (at least from my circle of friends), I thought I'd share.
The below video of some old-school jazz (taken from inside Loggerhead) is about as authentic as it gets.
Relax to Some Old School Jazz (Video)
Loggerhead's address (map)
You can find Loggerhead at 1 Tarasa Shevchenko Blvd., Kyiv, Ukraine.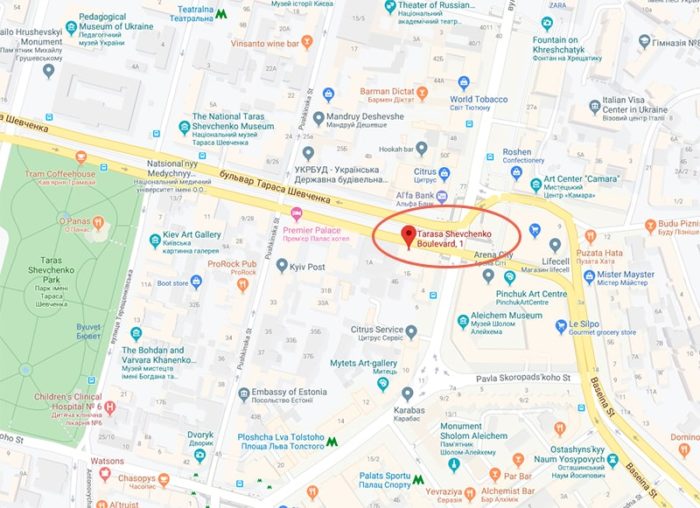 Step 1 – find the "Porter Pub" near the green alley (picture)
When trying to find Loggerhead, look for Porter Pub (a competing bar next door) right off Tarasa Shevchenko. Loggerhead is located in the adjacent alley and is completely unmarked. See the yellow awning in the picture – that's the Porter Pub. You can't see the name from the angle of the picture. Also, notice the green arch – that's the alley you'll go into.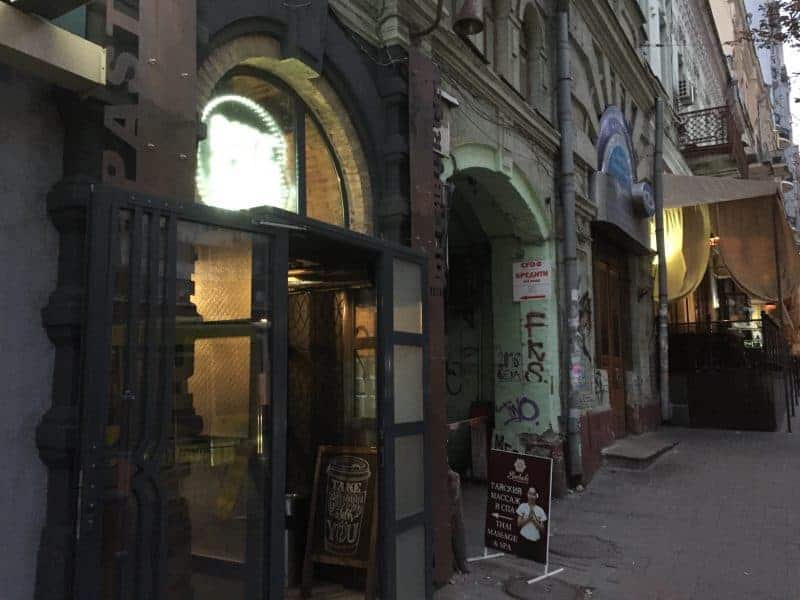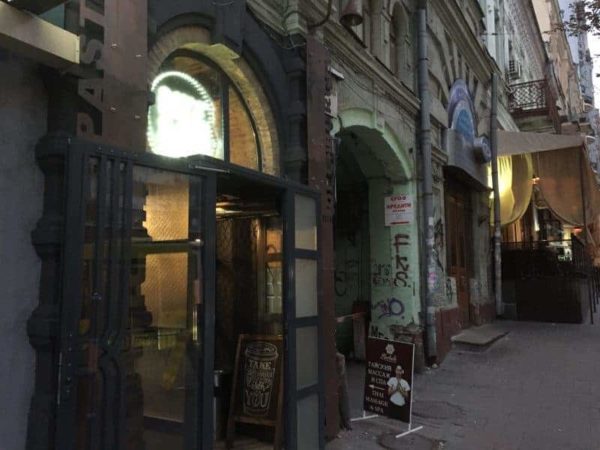 Step 2 – find the green alley (picture)
Walk down the alley for about 30 seconds … it'll be dark and maybe even a little scary if you go late. Don't worry, it's totally safe. I think they do it for effect! This picture was taken during a cloudy day, so it'll likely be a lot darker when you go. Again, they'll be people around, so it's safe.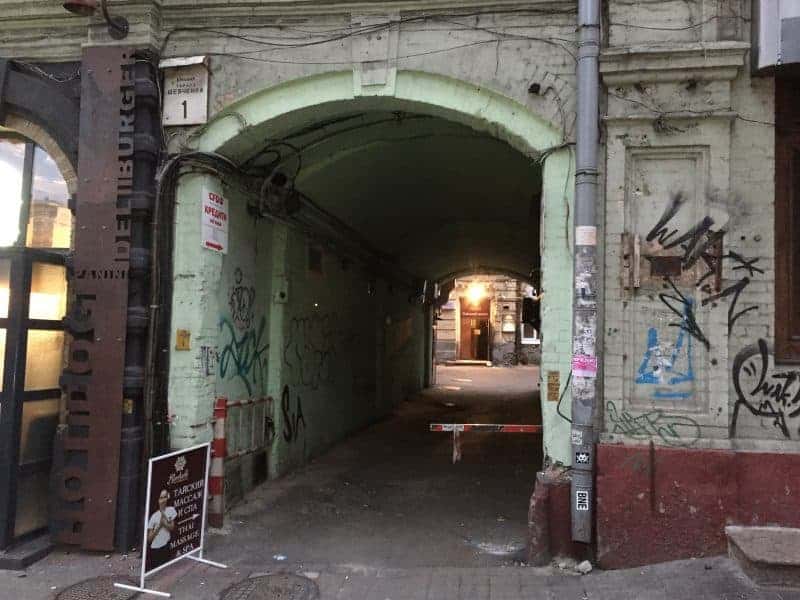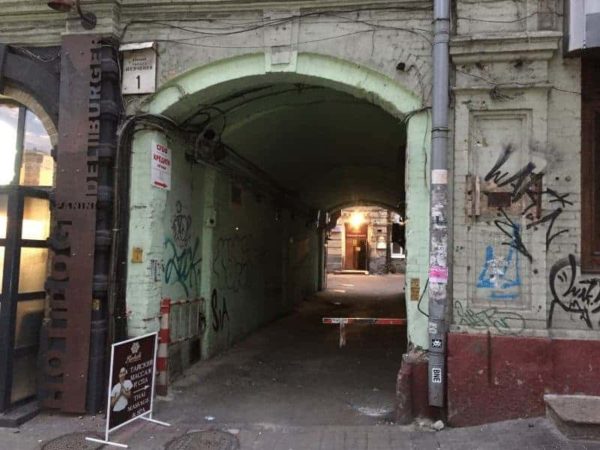 Look for a nondescript black lever near a door (at the left) and pull it down. You'll know you pulled the right one when you hear a buzzing noise and see an open latch. If you see eyes staring at you, this is "security," waiting to hear "loggerhead," the password. =)
The latch is actually the little air vent you see above the yellow triangle.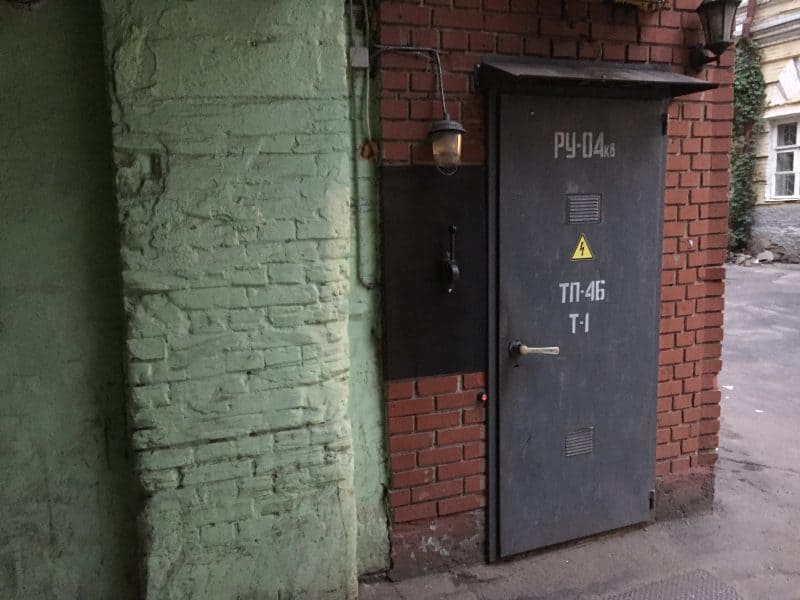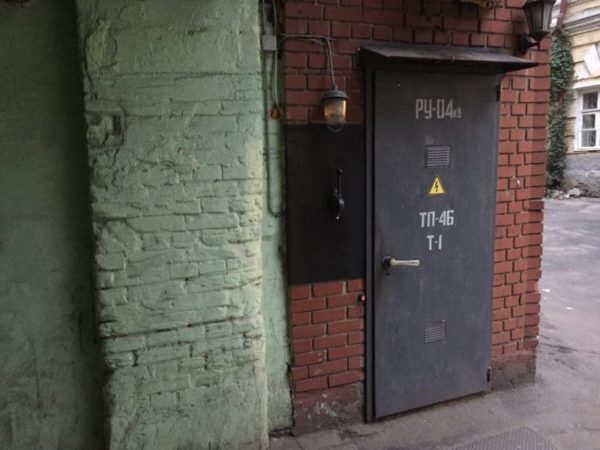 Final step – enjoy the cocktails and cool ambience (picture)
And once you get inside, here's how it looks: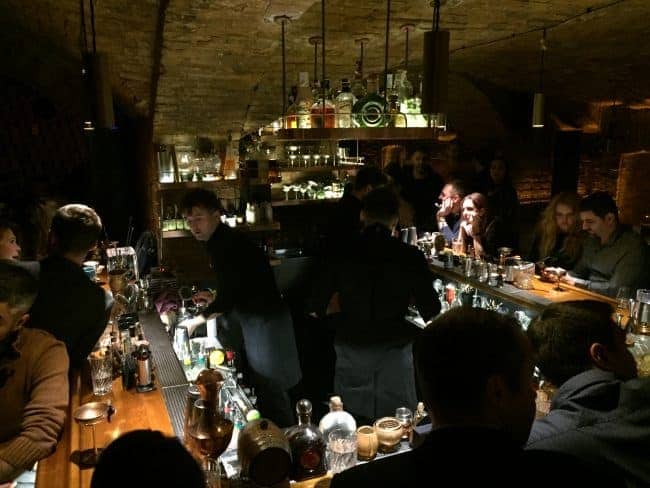 I thought I'd also add that I'm not affiliated with Loggerhead. I go there from time to time and enjoy the place. It's a hidden gem in Kyiv and a place I think you'll really like.
QUOTE:
"Kyiv is a bilingual capital, something unusual in Europe and unthinkable in Russia and the United States."
-- Timothy Snyder, The Road to Unfreedom: Russia, Europe, America