Looking for a great burger place in Kyiv? Oh, you've sooooo landed on the right page, my friend! If you don't believe that Ukrainians can make delicious American-style burgers, you're in for an awakening!
With the increasing influence of the Western lifestyle, burgers have become very popular in Kyiv. Burger places generally offer great menus for every taste, from vegetarian and fish to "classic" beef.
In this article, I share 7 of my favorite burger joints in Kyiv.
1. UP Station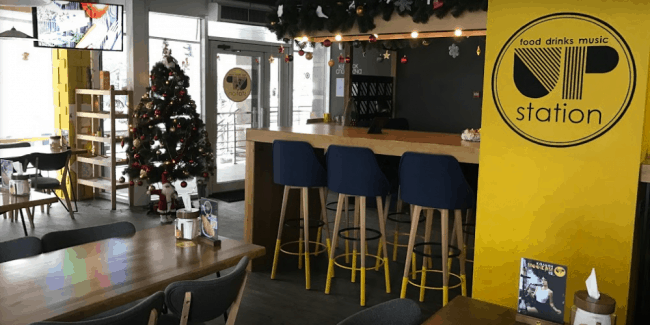 Hours: 10am – 11pm
Pricing: $
Location: 119 Lobanovskogo Ave; near Demiivska metro station
For reservations: +380 97 015 5459
Up Station is a cozy bar near the metro station Demiivska. The menu consists of classic American burgers as well as some specials, all for a great price! Here you can try a vegetarian burger too, but the most famous one is the BBQ burger with soft pork ribs.
2. True Burger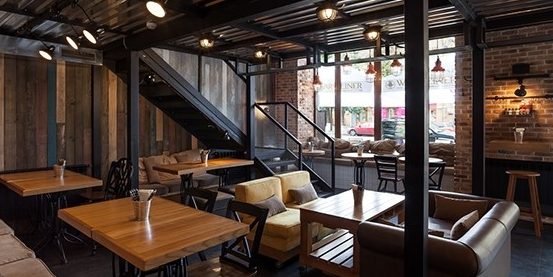 Hours: 11am – 11pm
Pricing: $$$
Location: 42 Bohdana Khmelnitskogo str; Teatralna/Universytet metro stations
For reservations: +380 99 010 9993
I learned about this place from a friend of mine. He said the burgers and atmosphere were incredible, and well, let's just say his opinion didn't disappoint.
Located at the center of Kyiv, True Burger Bar boasts a very cozy and modern design and a good-sized menu. The staff speak great English and offer recommendations for first-timers. Also, this place has a great bar with designer cocktails for each style of burger on the menu!
Tip: if you want to visit this place on the weekend, make a reservation. It's packed after 5pm.
3. Crab's Burger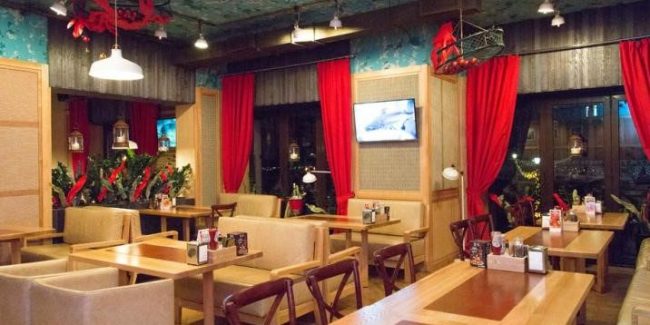 Hours: 11am – 10pm
Pricing: $$$
Location: 21-23 Vozdvizhenska str, Kontraktova Ploshcha metro station
Make reservations: +380 96 121 3131
This burger bar is owned by Dmytro Borysov, a famous Kyiv'er who's got a network of amazing restaurants around the city. His restaurants are unique and classy, and his menus offer a variety of delicious food. Crab's Burger specializes in seafood, so you can try an amazing fish burger here. I'm not a big fan of fish burgers, but one from Crab's Burger is something special – totally delicious!
(But they also offer classic burgers – try the Turf&Surf Burger.)
4. Star Burger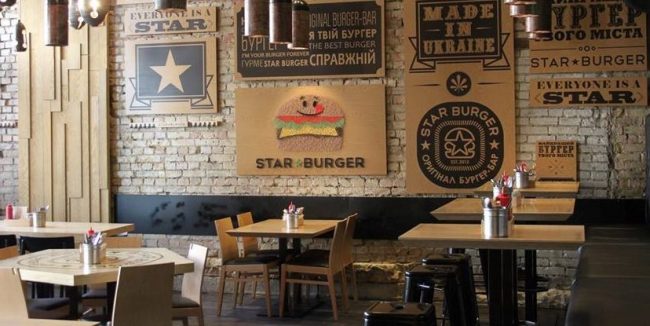 Hours: 12pm – 11pm
Pricing: $$$
Location: 7/11 Khreshchatyk str, Khreshchatyk metro station
Make reservations: +380 44 364 4054
Located at the very center of the beautiful city of Kyiv on the most famous street in the country, it's one of the most popular burger joints in town. Here they serve special burgers made with potato bread, which I especially liked.
Also, try their special "Star Burger" with beef chop, cherry tomatoes, special dressing, and Boston salad.
5. Sam's Steak House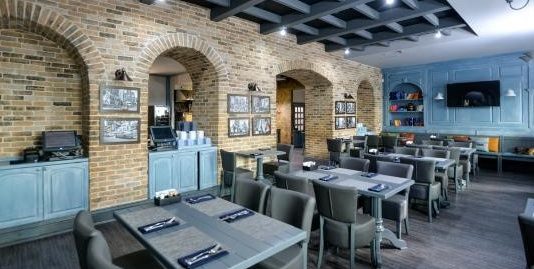 Hours: 11am – 11pm
Pricing: $$$$
Location: 37 Zhylianska str., Olympiiska metro station
Make reservation: +380 44 287 2000
A stylish steakhouse, Sam's also serves American-style burgers! Sam's Steak House is the first restaurant of its kind to be opened in Ukraine. Established in 1996, this is still one of the classiest places in Kyiv for friends, family, or business partners.
Of particular interest – this restaurant offers its customers the option to prepare any dish themselves.
6. Burger Farm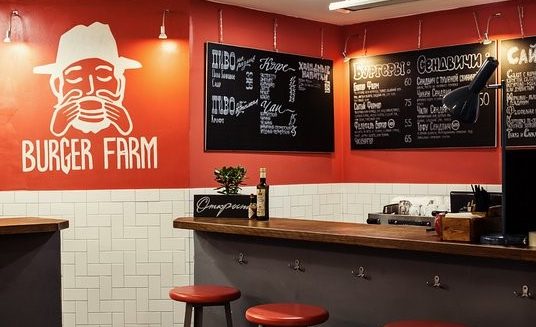 Hours: 11am – 11pm
Pricing: $$
Location: 56 Tarasa Shevchenka blvd., Universytet metro station
Make reservation: +380 50 634 0451
This burger joint offers 8 basic burgers, but you can add or remove ingredients to make it more personalized.
And if you're a vegetarian, they'll kindly substitute tofu for cheese. And if you're counting your calories, they offer quite a few low-calorie options. This place is all about a healthy lifestyle and delicious food.
7. The Burger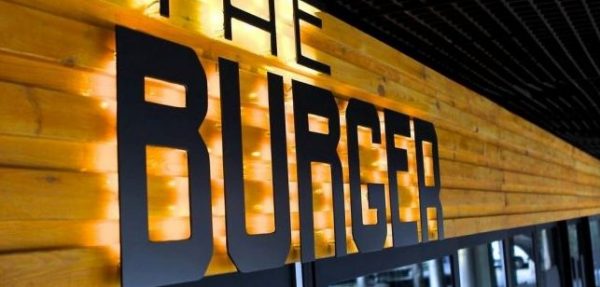 Hours: Open around the clock
Pricing: $$$
Location: 5 Velyka Vasylkivska str., Ploshcha Lva Tolstogo metro station
Make reservation: +380 44 384 2717
This was the best burger bar in Kyiv! Very friendly staff with good English and a downtown location. Great atmosphere and delicious burgers too! Located within Arena City, The Burger offers a great variety of sandwiches (and a wonderful chicken sandwich, too!) as well as other delicious Ukrainian dishes. Highly recommended.

QUOTE:
"Kyiv is a bilingual capital, something unusual in Europe and unthinkable in Russia and the United States."
-- Timothy Snyder, The Road to Unfreedom: Russia, Europe, America